In recent years, digital subscriptions among companies have increased significantly. New innovative digital services make it easier for companies to solve daily challenges, but growth means you risk losing control, and the question of how much your company spends on digital subscriptions is becoming increasingly difficult to answer. SaaS management is becoming crucial for maintaining control and an overview of your company's digital subscriptions.
This article will tell you how much a startup of 11 employees spends on subscriptions.
How much do we at Substly spend on SaaS subscriptions?
Straight to the point - We can easily show you this with the help of Substly's SaaS management tracking tool.
17,078 EUR in total last 12 months
1,190 EUR per employee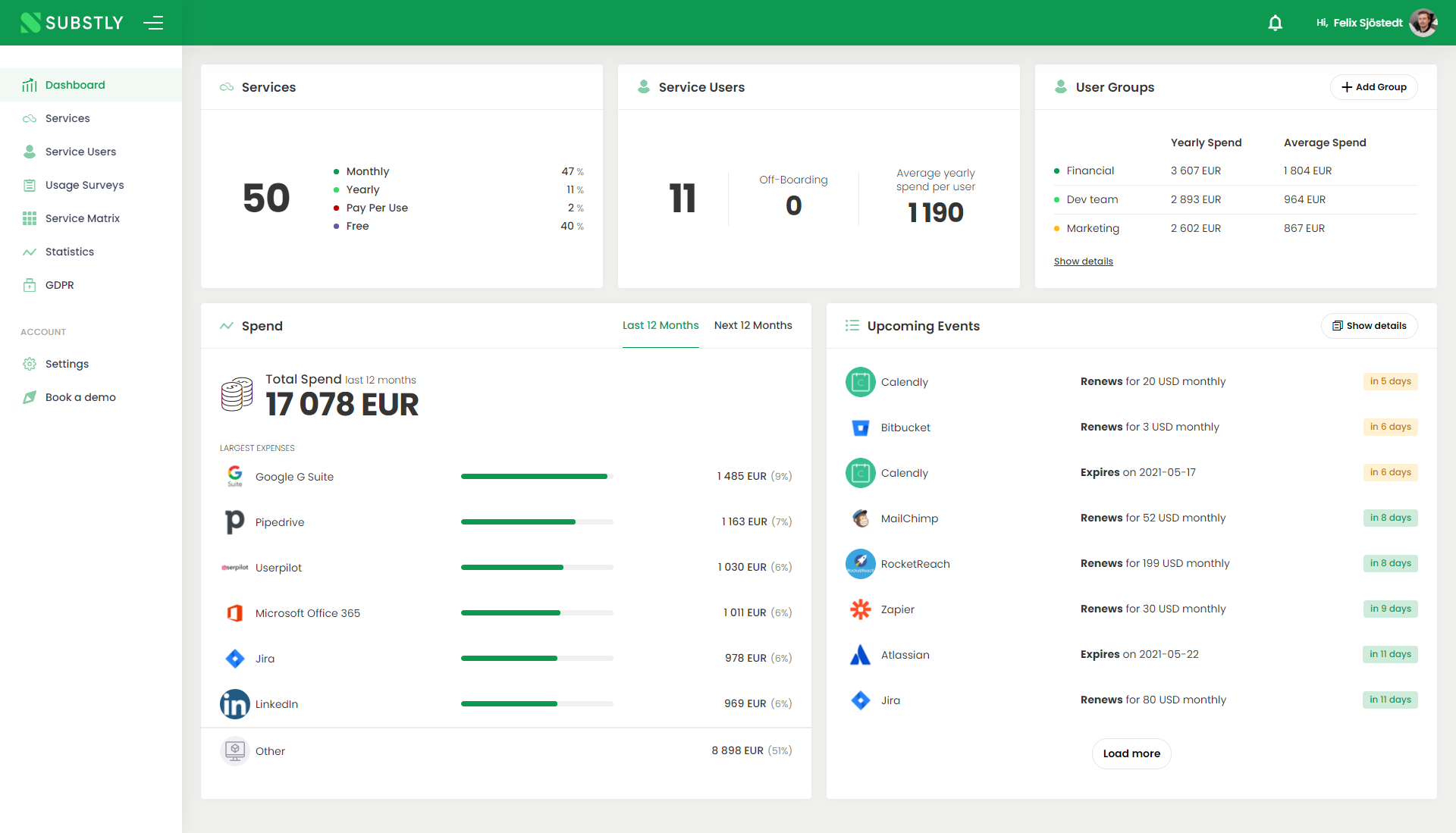 With Substly's digital tool, you can see which services you use and how much you will use each year and month. You can also see which employees use which services and when they renew. SaaS management is crucial for maintaining control and overview of your company's digital subscriptions.
Some of Substly's features that simplify the SaaS management of digital subscriptions:
Integrated surveys for collecting insights about your employee's usage
Services and cost per employee
Reminder when services will renew
Cost per user group
Overview of the expenses per month and year
GDPR-overview for security
How much does an average company spend on SaaS subscriptions?
In recent years, digital services within companies have skyrocketed, primarily due to the rapid development of technical solutions. Today, some digital services and applications handle tasks that required several employees to operate only a few years ago.
A medium company has, on average, a 2.05 Million EUR total SaaS spent in 2020.
Compared to two years ago, the overall spend per company on software-as-a-service products is up by 50%.
The average company uses 137 unique SaaS apps on average. That's a 30% increase from 2018.
There are, on average, 4,406 app-to-person connections for an average company.
The increase in digital services companies use is positive as it means more efficient and satisfied employees. But that increase comes with a risk of losing control. The more services your company buy, the more money you waste.
But that does not have to be the case; you can both have your cake and eat it.
The key lies in control and overview. If a company has power and a good overview of their digital services, they do not have to waste money on subscriptions they do not use.
Inclusion and manageability are essential to succeeding with SaaS management
With Substly's tools, more employees can be included when managing subscriptions, which is an excellent advantage if you want to ensure that money in your company is recovered and that an old employee has access to old accounts.
Usually, a company's digital subscriptions operate in a rather dull excel sheet that probably only one person fully understands. What benefits come out of this? None at all. Inclusion and manageability are essential if your company wants to keep control of your digital subscriptions. If you use a tool that includes more employees in the team to split the burden, the result will be fewer misunderstandings and less tedious communication.
Secure your data by implementing SaaS management
Financial savings are important for a successful business, but ensuring the safety of your information should also be a priority. One way to do this is by implementing SaaS management and tracking all subscriptions used by employees.
It may seem unlikely that a former employee would spread confidential information, but the reality is different. To ensure that a former employee no longer has access to previous digital services, it is important to implement SaaS management. With a digital system for managing subscriptions, it becomes easier to secure your data.
The majority of companies currently track their digital subscriptions through a spreadsheet, but this method lacks the necessary functionality for SaaS management, such as seeing which employees use which subscriptions. Instead, the company's joint subscriptions and costs are registered on the same sheet. Still, if you were to list who uses which subscriptions, there is still a risk that the former employee would pass on classified information.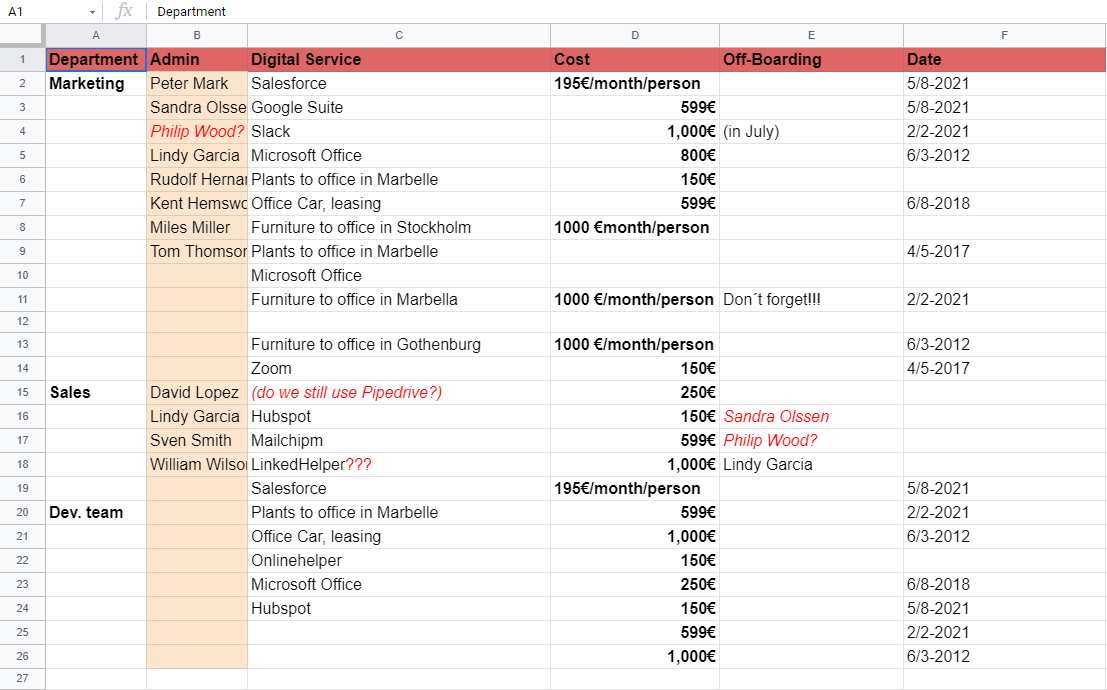 The chance that a company that works in Excel would list all the free subscriptions linked to the company is slim. The effort is not worth it.
Using a spreadsheet to track subscriptions is not efficient and may not provide a complete picture of all the subscriptions linked to the company. The effort is not worth it. Substly's subscription management tool can help you track which subscriptions belong to whom, whether they are paid or free. By implementing SaaS management and using Substly's tool, if an employee leaves the company, you can easily see which services they were using and prevent unwanted information from being spread outside the company's walls.